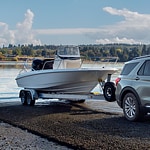 Ford Explorer has an old rep for performing exceptionally well on paved roads or over bumpy off-road conditions. This aptly named SUV boasts widespread popularity among three-row models. Why? Its impressive in-cabin amenities, passenger/cargo space, sporty looks and performance are all she wrote, but take a closer look at two standout performance features that our Wynne Ford team selected.
Engine Built for Power
Explorer hauls a ton and tows several, thanks in part to its standard rear-wheel drive and its EcoBoost engine. This engine outputs a beastly 300 to 400 horsepower, boasting up to 415 lb-ft of torque. The secret is EcoBoost's ingenious combo: direct fuel injection and turbocharging. It puts incredible power at your fingertips for the long treks through Hampton or out to the middle of nowhere.
The Rollover Days are Over
Despite its heft, Explorer leads in the category of stability. Its Sidewind Stabilization feature counters high winds or evasive road maneuvers, ensuring you stay your course even if you're towing a full trailer.
Take Ford Explorer for a spin at our dealership today. We look forward to meeting you.