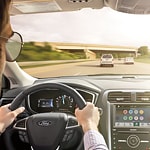 If you need a sedan that has features for a long road trip, consider buying a Ford Fusion from Wynne Ford. In this Ford Fusion blog post, you'll discover two reasons why a Fusion is a solid automobile for travelers.
Comfy Seats

All of the seats in the Ford Fusion's cabin have features that keep passengers completely comfortable. The two front seats have a curved shape that rests snugly against the back and spine and a firm headrest that supports and cushions the neck. In the back of the cabin, the seats are wider, and the headrests are slightly smaller. However, they still provide the same level of comfort. For additional comfort, each passenger seat has a heating/cooling feature.
Space for Cargo

?In the trunk, there is a layout for cargo that's 16 cubic feet. If you have a pair of suitcases, you can stack them quite easily in this trunk.