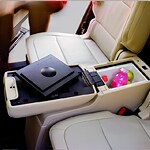 Automotive efficiency is presently reaching a point that is unlike anything humanity has witnessed prior to the 21st century. For modern drivers, intuitive onboard conveniences stand at the forefront of today's masterful technological developments, and no ride personifies this compelling trend better than the exemplary Ford Flex. This uniquely enticing full-size SUV effectively demonstrates the industry's current trajectory and its continuous arc towards wondrous vehicular accommodations.
By featuring the capacity for 10 separate cupholders, this fearless creation practically enshrines a portable party hub. Because every drink is granted a designated zone, the interior can remain spotless despite hosting all kinds of raucous gatherings.
Digital connectivity is facilitated with unbelievable simplicity, so smartphone integration is a complete cinch. The supreme cyber magic all stems from the comprehensive SYNC 3 software. This mind-blowing arrangement must be observed personally. Remember, Wynne Ford's go-to source for all types of test-driving services.