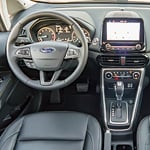 The Ford EcoSport has high-end amenities that aren't usually found in a subcompact SUV. As a result, this SUV is great for commuting, and it has terrific amenities for taking it on adventure vacations.
Once you get in the Ford EcoSport to go on an adventure vacation such as hiking or camping, you'll notice the available easy to clean seating. This seating is not only easy to clean, but it is also stain-resistant. The stain-resistant material is great if you go fishing, hiking, or having a pet that loves to get in the water.
There are also top amenities such as two USB fast charging ports. In the colder weather, you might appreciate the heated leather-wrapped steering well also. The six-way power driver's seat is a wonderful addition to the Ford EcoSport for commuters and travelers who need to stay comfortable for long distances.