Ask your Wynne Ford salesperson or service advisor if your vehicle is compatible with FordPass and SYNC Connect.
The FordPass app was designed to help you move through your day the way you already do - only smarter, better and easier than ever before. With FordPass, you can be in touch with your vehicle in more advanced ways. From accessing your vehicle's data to managing its service needs - it's all on your smartphone.
FordPass features include:
VEHICLE CONTROLS. Available on select vehicles. Start, lock and unlock your SYNC® Connect-equipped vehicle and even schedule remote starts.


MY DEALER. Set your Preferred Dealer to see hours of operation and contact information, and easily schedule service appointments at participating locations.


PARK. Start parking smart. FordPass Park lets you quickly find parking ahead of time. Parking marked with the calendar icon is reservable and you can pay for it right from the app. Available in select cities.


FORD CREDIT. A fast, easy and convenient way to stay on top of your vehicle's financing. You can make a payment, schedule future payments, and review your account history.


MESSAGE CENTER. Receive timely messages such as important notifications and service needs.


ROADSIDE ASSISTANCE. Roadside Assistance provides help when members need it most. A tap-to-call button allows members to receive help quickly.


MY VEHICLES. Access your vehicle information and service history in one convenient spot. Plus, with SYNC Connect and SYNC AppLink®-equipped vehicles, you can receive vehicle health alerts. These alerts can help you better understand what a warning light means, what could be causing the problem, and the steps you can take to resolve the issue.


MY WALLET. FordPay makes it easy and secure to pay for FordPass services.


PERKS. Start getting Perks delivered to your email inbox for completing simple activities.


FUEL. Fuel your journey and find fuel so you can keep going. Filter by fuel grade or brand. And quickly compare pricing.


GUIDES. Get one-on-one help via phone or live chat from a friendly and knowledgeable Guide. FordGuides are always happy to help you with any FordPass needs or questions you may have.
Download FordPass for free on the App Store or Google Play.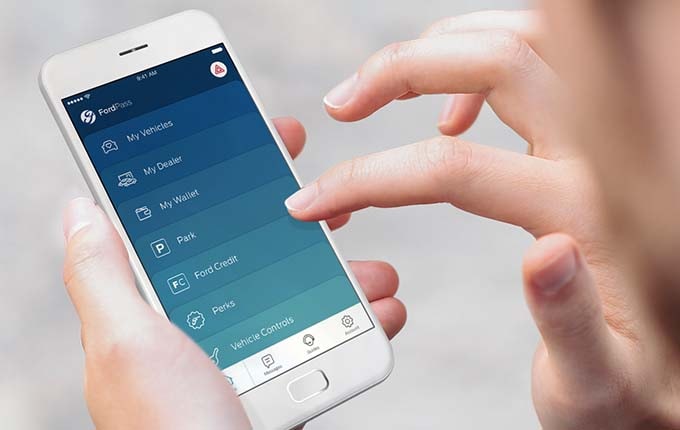 SYNC® Connect Powered by FordPass
SYNC Connect remote features are available for five years from the vehicle sale date.
VEHICLE STATUS. Check fuel level to plan ahead if you need to make time to refuel. Check approximate mileage and miles until the next service is needed.


REMOTE START. Touch and hold to start the engine, which runs for 5, 10 or 15 minutes based on your vehicle settings for remote start. If you select Auto or Last Setting, the vehicle will be at the same temperature and fan speed as previously selected.


UNLOCK. Touch and hold to unlock the doors from virtually anywhere


LOCK. Touch and hold to lock the doors from virtually anywhere


REFRESH. Touch to refresh vehicle status


VEHICLE LOCATOR. Touch to see the location of your parked vehicle. This makes it convenient for members to quickly find and get back to their parked vehicle


SCHEDULED REMOTE STARTS. Touch to schedule remote starts for specific times and days of the week
Activate SYNC Connect with these easy steps:
Download the FordPass app.
Create an Account or log in.
Create a PIN.
Add your SYNC Connect-equipped vehicle to My Vehicles by scanning the VIN barcode.
Tap the Activate icon from the FordPass Vehicle Controls or My Vehicles card.
Start the vehicle and touch Allow on the in-vehicle pop-up.
(1) Available on select models and compatible with select smartphone platforms. SYNC AppLink requires any compatible apps 
to be installed and running on a capable smartphone while connected to Ford SYNC. SYNC AppLink is not compatible with 
MyFord Touch. Commands may vary by phone and AppLink soft ware. Message and data rates may apply.
(2) Roadside Assistance is included for certain Ford owners and available to everyone for a per-service fee.
(3) SYNC Connect is an optional feature on select 2017 MY vehicles and includes service for fi ve years from the vehicle sale date 
as recorded by the dealer. FordPass is on the App Store or Google Play. Message and data rates may apply. Service may be 
limited by mobile phone network coverage area.
(4) FordPass, compatible with select smartphone platforms, is available via a free download. Message and data rates may apply. App Store is a service mark of Apple Inc. Android, Google Play and the Google Play logo are trademarks of Google Inc.
(1) SYNC Connect, an optional feature on the 2017 Ford Escape, Fusion and Fusion Hybrid, and F-150, is required for certain features.
(2) FordPass, compatible with select smartphone platforms, is available via a free download. Message and data rates may apply.