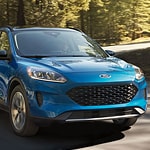 Ford Escape is a popular choice for drivers who are looking to find the perfect balance between luxury and convenience. This SUV was designed with features like an intelligent 4x4 system, remote engine start, and lane-keeping assist that make it easy for you to get where you need to go. If you're interested in finding out more about the Ford Escape, then keep reading!
Powering the Ford Escape is a 2.5-liter four cylinder EcoBoost engine that generates 168 horsepower and 170 lb.-ft. of torque. This turbocharged powerplant comes paired with either six-speed SelectShift automatic or six-speed manual transmission. Front-wheel drive is standard with all wheel drive available as an option for those looking to increase their off-road capabilities on muddy, unpaved roads.
Ford Escape is loaded with advanced safety features that have been engineered into the latest model of this popular SUV. Features like Curve Control, a Roll Stability Control system, and a Lane-Keeping System have all been designed to keep you and your passengers as safe as possible. When driving on sloping terrain or through sharp turns, these technological advancements will prevent the vehicle from going off the road.