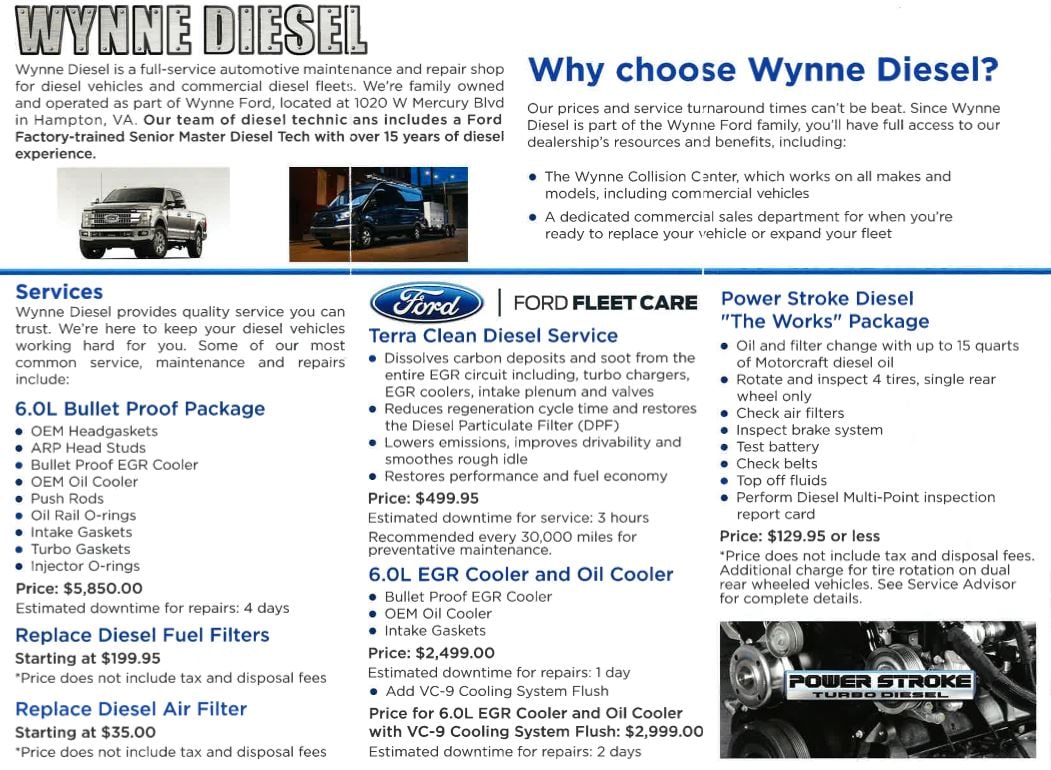 Wynne Diesel is a full-service automotive maintenance and repair shop for diesel vehicles and commercial diesel fleets. We're family owned and operated as part of Wynne Ford, located at 1020 W Mercury Blvd in Hampton, VA. Our team of diesel technicians includes a Ford Factory-trained Senior Master Diesel Tech with over 15 years of diesel experience.
Services
Wynne Diesel provides quality service you can trust. We're here to keep your diesel vehicles working hard for you. Some of our most common service, maintenance and repairs include:
6.0L Bullet Proof Package
OEM Headgaskets

ARP Head Studs
Bullet Proof EGR Cooler
OEM Oil Cooler
Push Rods

Oil Rail O-rings

Intake Gaskets

Turbo Gaskets

Injector O-rings
Price: $5,850.00 
Estimated downtime for repairs: 4 days 
TERRA CLEAN 6.7L DIESEL SERVICE
Dissolves carbon deposits and soot from the entire EGR circuit including, turbo chargers, EGR coolers, intake plenum and valves

Reduces regeneration cycle time and restores the Diesel Particulate Filter (DPF)
Lowers emissions, improves drivability and smoothes rough idle
Restores performance and fuel economy
Price: $499.95
Estimated downtime for service: 3 hours 
6.0L EGR Cooler and Oil Cooler
Bullet Proof EGR Cooler

OEM Oil Cooler
Intake Gaskets
Price: $2,499.00
Estimated downtime for repairs: 1 day
Add VC-9 Cooling System Flush 
Price for 6.0L EGR Cooler and Oil Cooler with VC-9 Cooling System Flush: $2,999.00
Estimated downtime for repairs: 2 days 
Power Stroke Diesel "The Works" Package
Oil and filter change with up to 15 quarts of Motorcraft diesel oil

Rotate and inspect 4 tires, single rear wheel only
Check air filters
Inspect brake system
Test battery 
Check belts
Check hoses
Top off fluids
Perform Diesel Multi-Point inspection report card
Price: $129.95 or less
*Price does not include tax and disposal fees. Additional charge for tire rotation on duel rear wheeled vehicles. See Service Advisor for complete details. 
Replace Diesel Fuel Filters
Starting at $199.95 
*Price does not include tax and disposal fees
Replace Diesel Air Filter
Starting at $35.00
*Price does not include tax and disposal fees
Why choose Wynne Diesel?
Our prices and service turnaround times can't be beat. Plus, since Wynne Diesel is part of the Wynne Ford family, you'll have full access to our dealership's resources and benefits, including:
       

The Wynne Super Body Shop collision center, which works on all makes and models, including commercial vehicles.

       

Our sales and commercial sales departments for when you're ready to replace your vehicle or expand your fleet
If you run a small business, your work truck or van is vital to your bottom line. That's why we offer vehicle downtime reimbursement for work vehicles. If we can't fix your truck or van within the agreed-upon turnaround time, we'll reimburse you the cost of your lost day of work. Some exclusions may apply, contact us for more information.
Commercial Vehicles
As part of Wynne Ford, Wynne Diesel offers commercial truck owner-operators and fleet managers the following services and benefits:
        

Commercial fleet sales

        

Fleet pricing on services

        

After-hours service

        

Commercial pricing on parts and labor

        

Priority scheduling

        

Onsite collision center/body shop

        

Ford Fleet Care

        

Ford Diesel Engine Care Plan

        

Quick Lane onsite

        

Ford factory-trained Senior Master Techs and OEM parts
As a Ford Certified Commercial Dealer, Wynne Diesel is your one-stop shop for all of your commercial diesel vehicle needs.
Contact us
        

Sales: (888) 365-4478

        

Service: (888) 355-1872

        

Parts: (888) 355-5516

        

Collision Center: (757) 265-3420

        

Commercial Fleet Sales: (757) 838-3673
1020 W Mercury Blvd. Hampton, VA 23666
Schedule Service